A couple of days ago I parted my hair in the centre after washing it and combed it straight. As you can see a few posts down, my hair is very straight and in a bob shape and I'm growing my fringe out.
Usually, after a shower, I part to one side, comb and leave the house. When I look in the mirror later at work or in the studio, there it is, parted to one side and lying flat. Very flat. I have had to make friends with my flat straight hair and my ginormous exposed forehead because I don't like the feel of hair on my forehead, and I hate hair in my eyes when I'm working.
A couple of days ago, when I decided to do something a little different and part in the centre, I glanced in the bit of mirror I had at work and saw this: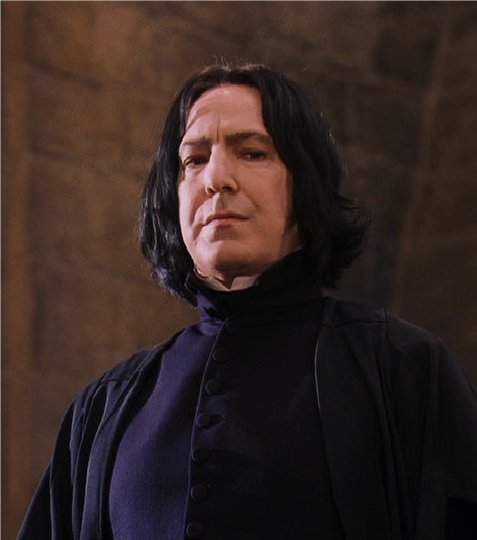 ...which is ok if you're paid to look like Professor Snape, but not if you are not. And only marginally better than looking like
Nana Mouskouri
,* who was the bane of my childhood.
So. What I'm leading up to here is that I had another of my 'OMFG, I need a makeover' moments, and I booked a session for today with my favorite hairdresser, who cuts layers like a dream and has been wasted on my hair for a year or so now while I've been growing my short hair out.
She greeted me with open arms, almost wet herself when I told her the Snape story, and declared that I was to be 'De-Snaped' instantly.
Up to now we've been working to a 'plan' of how to grow the layers from the last time I freaked out (and cut my hair to an inch all over), but I've come to the realisation that I quite like the dilemma of hair that isn't rational; I like the battle of having to deal with its moods. Once it's grown out and manageable, I get a bit bored.
Don't get me wrong -- I don't like hairdriers and don't like having to style my hair, or curl it, or straighten it (! Straightest hair in the universe -- but you get my drift). But I've decided for now that I don't want sleek hair. I'll change my mind again later, I always do, but for now I'll have fun.
Mel (my hairdresser) knew just what to do. She grabbed a razor and some thinning scissors and she went freestyle all over my head. There was no plan, just fun. When she'd finished, I was fluffy, whispy, ragged, but with bits that made sense -- I still have length at the back, and I can tuck the front behind my ears when I work. And the pile of hair on the floor was big enough to make a wig for someone. So much hair! So I also feel light-headed, which is marvellous when it's a freakishly hot day like today.
Check it out (obligatory bathroom mirror shots):
Happy! Bumblebee said that he can see lots more grey hair, but I look younger. Excellent! It's my birthday in a couple of weeks, I'm turning the universal magic age (42) and I'm looking just as I want to look. Fabulous.
I think the haircut and the show coming down was a great conjunction: I feel like I've used up
all
most of my scraps, and now I can start fresh. FRESH! Love it. If you'd like to see what the show looked like from above, which gives a pretty good overview,
click here
.
I made the most of Bumblebee as a studio assistant today:
He found such tasks highly exotic (he also wields a mean paint roller), lucky for me. But it's shown him a less alluring side to making art, and he thinks he won't be an artist now. Heh.
*This photo was taken just before I had my last hair freak-out which resulted in
this
. Sigh. I miss that really short hair, but BB doesn't.