I received an email today from my lovely Aunty Lou, who often comments here. She mentioned for the first time that her son, my cousin, has a
blog
that is documenting his and his partner's journey through surrogacy to have a family. I just sat and read it through from the start, and I dare anybody to read it and say that gay men should not have children or that they are incapable of having a solid loving relationship. Especially in
this post
; if I could write like this about my own marriage (and yes, these two are the most 'married' you could be), I'd be a lot more confident about my old age. Not that I'm not happy, it's just that you can feel the confidence palpably between these gorgeous and open-hearted men. I'm such a slack cousin; I need to be in touch more. And that goes for anyone in my family. If you're writing a blog, TELL ME!!!
This seems like a good moment to say how much I'm enjoying my new feedreader now that Bloglines has imploded. I'm now using
Feedly
, which compiles and presents all the feeds like an online magazine. It makes everyone's blogs look very important and glamorous, and I love the ease of reading everything! Just in case anyone out there isn't a seasoned blogger, feedreaders are the reason why you think no-one visits your blog. Using a feedreader doesn't show up on your visitor stats, so you might have lots of lurkers who don't comment reading you behind the scenes! I like to dip my toe in every now and again and leave a comment just so that people know I'm appreciating them :)
I'm working at home today, doing a bit of writing and trying to ignore BB's manflu whilst still managing to look after him in a very rudimentary way (tea, lunch, occasional cuddle). I taught a small and lovely bunch of women some book arts on the weekend, which was lots of fun, especially thanks to their enthusiasm. So today is a quiet day, with periodic treats.
Speaking of periodic treats, thank ceiling cat that Halloween is FINALLY over. Although I did go to a ripper Day of the Dead party on Saturday night, with everyone putting a lot of effort into their costumes.
And next time I have any money, I'm going to buy one of
these
: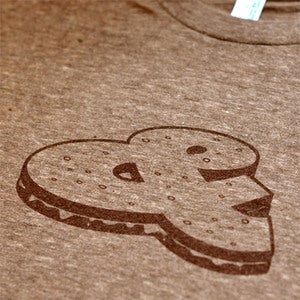 An ampersandwich!
OOh! I just remembered that I have a bag-full of purple petunias waiting to be potted that have been sitting there for days. Poor things, I'll do them now. Ciao.